Publish To CDN
Dear Swiper Studio users and fans,
We're thrilled to announce an exciting development that marks a significant milestone in our commitment to continually enhancing your Swiper Studio experience. We've been listening to your feedback and working hard behind the scenes to develop a new feature that propels your slider management to a whole new level. Today, we're excited to unveil "Publish To CDN".
When it comes to managing sliders, you need the flexibility to quickly create and seamlessly integrate them into your website. We understand how crucial this functionality is, especially in an era where the user experience plays a vital role in the success of a website. That's where our new feature, "Publish To CDN", comes into play.
Introducing "Publish To CDN"
Publish To CDN takes slider management to an unprecedented level, offering users a seamless way to manage their assets and integrate them into their websites. This groundbreaking feature allows you to publish the assets (CSS and JS) of your Swiper Studio project directly to our Content Delivery Network (CDN) powered by CloudFlare.
In effect, it transforms Swiper Studio into a CMS for sliders, providing you with the flexibility and ease to customize and incorporate sliders into your website without diving into the depths of complex coding. If you've been searching for a solution to elevate your website's slider management, Swiper Studio project published to CDN could be the game-changer you've been waiting for.
How Does It Work?
The process is straightforward and user-friendly, as you've come to expect from Swiper Studio. Once you've created your amazing sliders using our platform, you can now easily publish your assets to the CDN by using Publish button in the Export modal.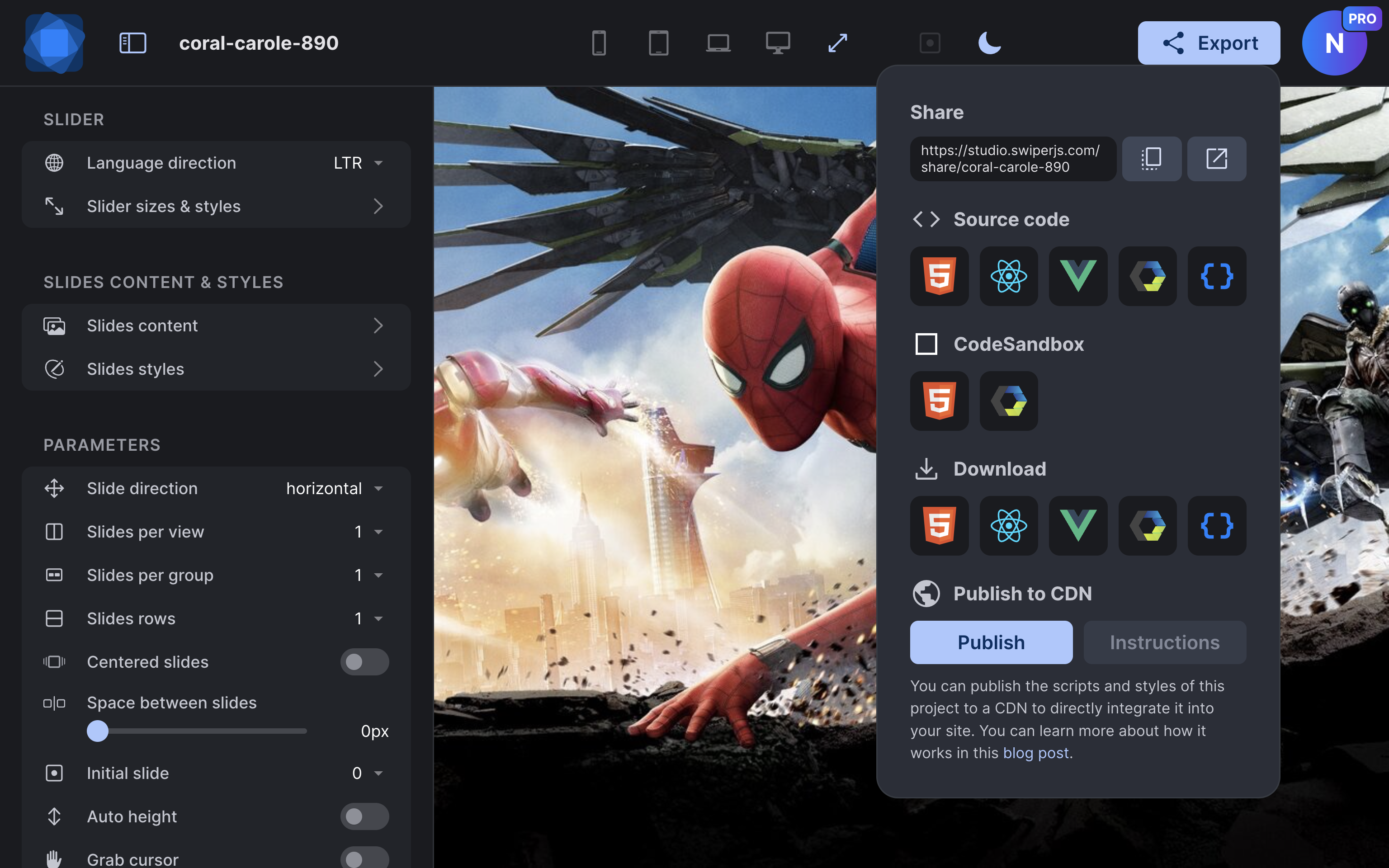 Then, it will upload project assets to CDN and open the window with instructions where you will need to copy the code for styles, scripts and HTML layout (optional):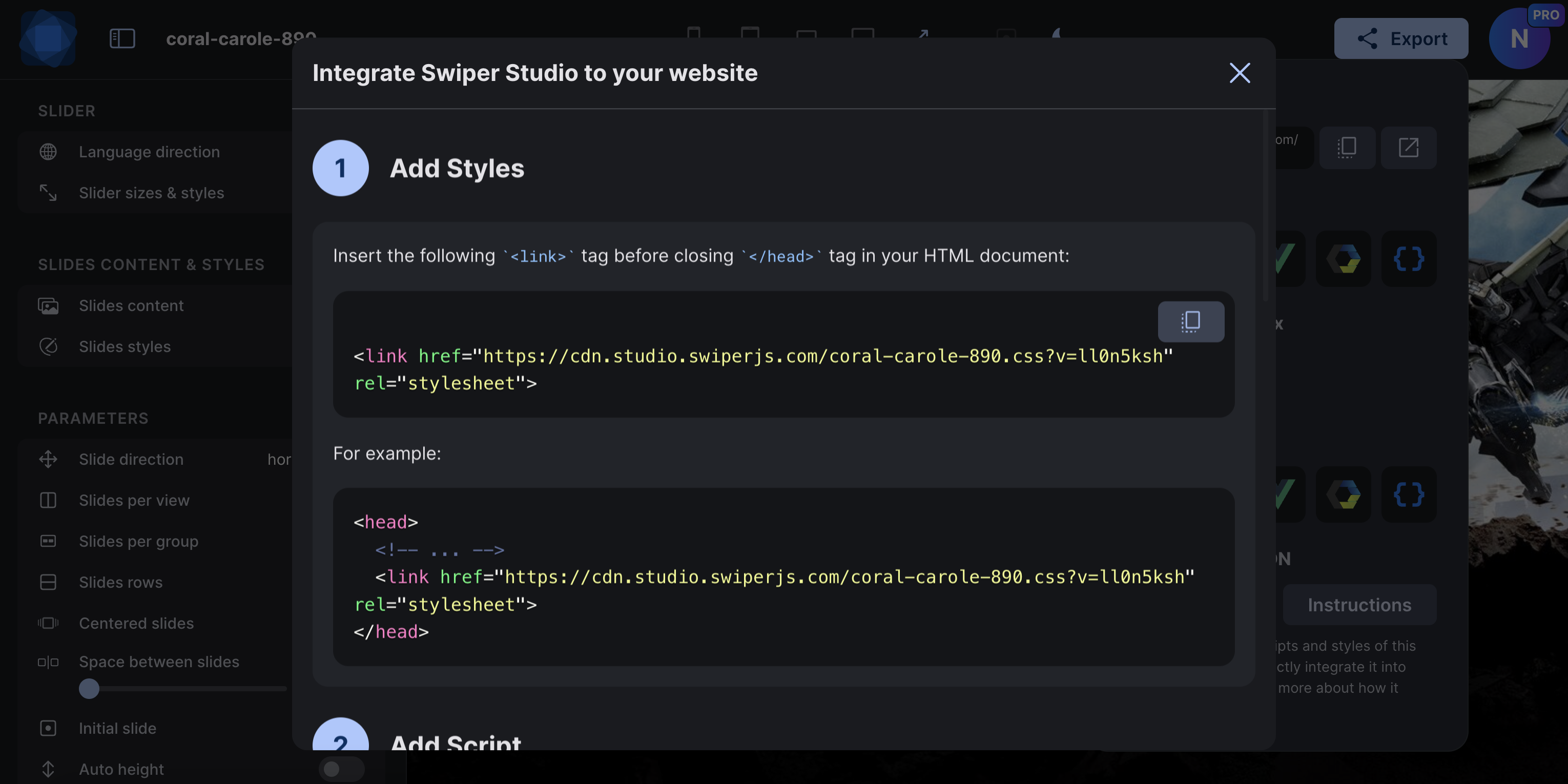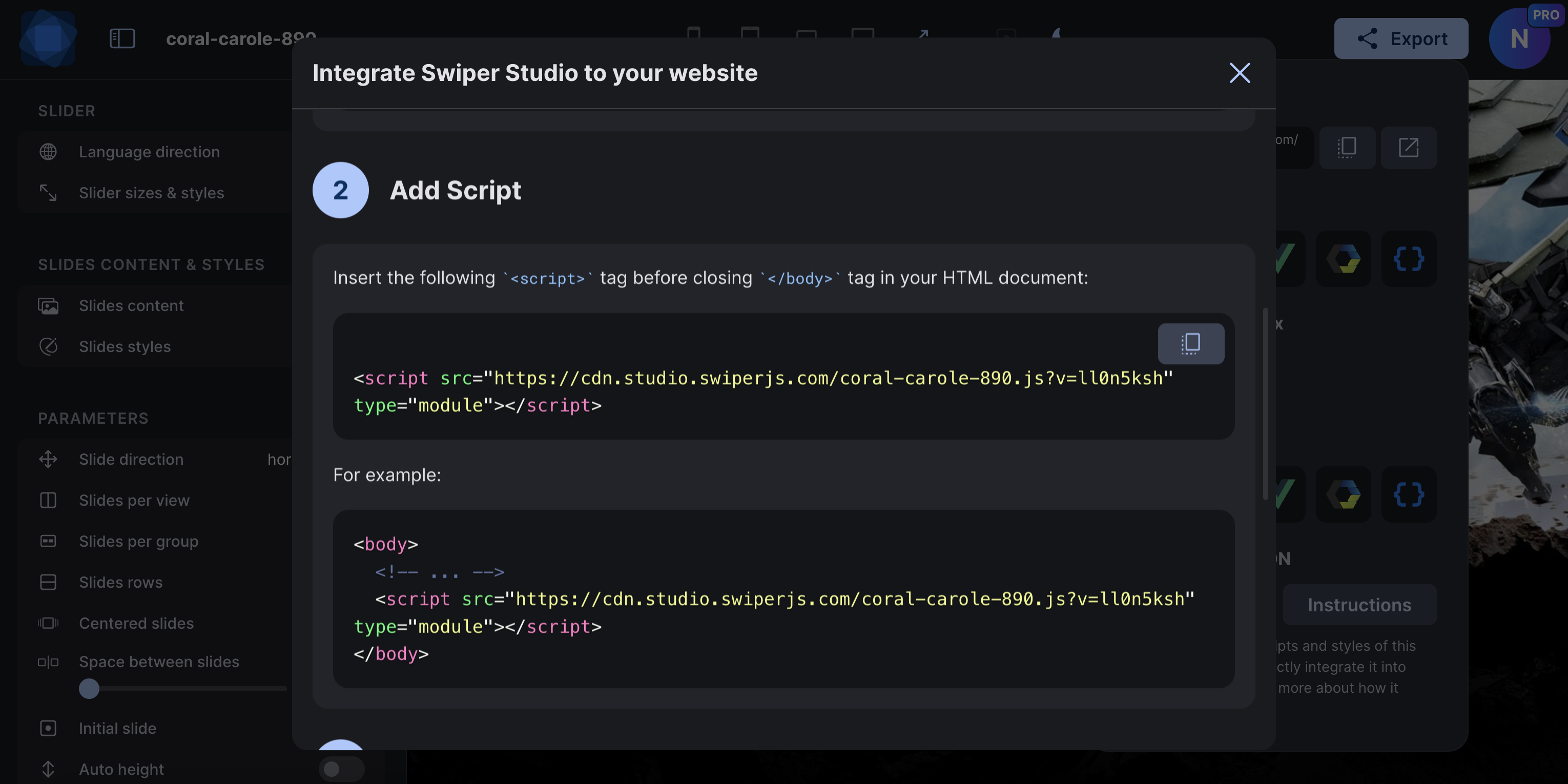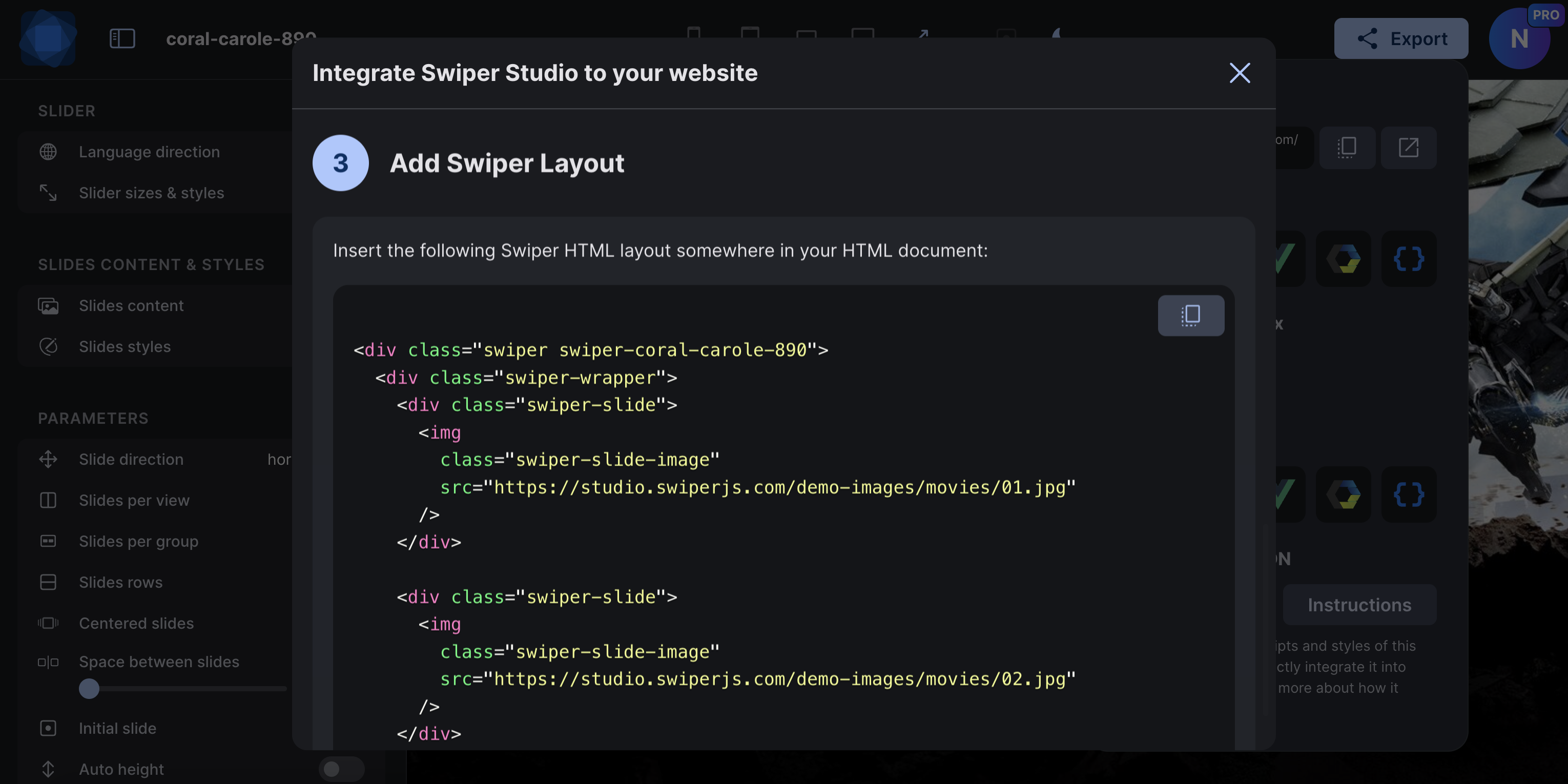 The result? A visually stunning, fast-loading slider that can dramatically enhance the user experience on your website.
Updating The Project

After you have changed and updated the project, you need to use "Update" button to update files on CDN. And due to CDN heavy caching it is recommended to check instructions again and update files paths on your website, especially ?v=... part.
Advantages
By turning Swiper Studio into a kind of CMS for sliders, project published to CDN offers numerous benefits:
You can easily integrate your custom slider into any website without needing deep technical knowledge or coding skills.
Publishing to a CDN ensures your assets load quickly, improving your website's performance and user experience.
The ability to manage and customize your sliders on the fly makes Swiper Studio an even more versatile tool for your design arsenal.
The Solution for Site Builder Restrictions
Another key advantage of the project published to CDN comes into play when using popular site builders like Shopify, Webflow, or WordPress.
While these platforms are fantastic for creating stunning websites without extensive coding knowledge, they often have certain limitations. One such constraint is the inability or difficulty in adding custom scripts or styles directly to the website or uploading custom files to their servers.
In these situations, "Publish To CDN" is your perfect workaround. You can then take the generated links from the CDN and add it to your website through the site builder's interface, even if the platform doesn't natively allow for custom code or file uploads.
This feature allows you to bypass the constraints of your site builder and seamlessly integrate your custom slider. With this feature, you get to enjoy the best of both worlds: the simplicity and user-friendly interface of your site builder, and the ability to customize your website with beautiful, high-performance sliders from Swiper Studio.
In other words, Swiper Studio project published to CDN is a lifeline for those using site builders and facing limitations on custom code or file uploads. So, go ahead and embrace the creativity and flexibility that Swiper Studio brings to your website design process.
Conclusion
We're excited about the opportunities that Swiper Studio offers, and we're looking forward to seeing the creative and dynamic ways in which you'll use this feature to enhance your websites.
Thank you for choosing and trusting Swiper Studio. We're committed to continually developing and improving our platform to better serve your needs.
Start creating, publishing, and integrating with Swiper Studio today, and take your slider management to a whole new level!
Best,
The Swiper Studio Team